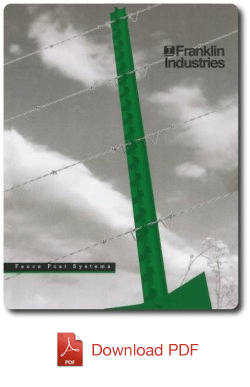 Fence Post Systems
Franklin Industries Co.'s Famous Gold Crown and Green/Light Grey Fence Posts are made from High-Strength Rail Steel and coated with high quality enamel paints to last years longer than other posts in the field. Even unfinished posts, used in silt fences, orchards, and vineyards, benefit from rail steel's inherent weathering resistance. For posts that will last for decades, hot dip galvanizing is also available.
Listed below is a table of steel fence posts specifications followed by detailed specifications of dimensions for both Studded "T" Fence Posts as well as punched Fence Posts.
Steel Fence Posts Specifications
Posts are produced from standard "T" rails weighing 91 lbs/yd or more according to ASTM A499, Grade 60; or ASTM A702(1.33 lbs/ft only).
Posts are either painted with baked green enamel, powder coated, hot dip galvanized per ASTM A123, or unfinished.
The weight of each post is 0.95, 1.25 or 1.33 lbs/ft. Studs are spaced uniformly along the length of the "T" shaped post.
The weight is 1.12 lbs/ft. holes are punched for easy wire attachment along the length of the "U" shaped post.
Standard on 1.25 and 1.33 lbs/ft Studded "T" Posts, securely swaged on the studs, and on 1.12 Self Fastening "U" Posts attached with rivets.
Five pre-formed wire fasteners are included with each painted "T" post. Fasteners are not required with "U" Posts.
Painted posts are banded in 5 piece sub-bundles in 200 piece master bundles, on blocking.
Steel Fence Posts Properties
Studded "T" Post Properties

Weight
Dimensions (Nominal)
Area
Lbs/Ft
"A"
B
C
IN²
0.95
1.465
1.125
0.125
0.279
1.25
1.625
1.375
0.125
0.368
1.33
1.635
1.375
0.130
0.391
Studded "T" Post Properties

Weight
Dimensions (Nominal)
Area
Lbs/Ft
"A"
B
C
IN²
0.95
1.465
1.125
0.125
0.279
1.25
1.625
1.375
0.125
0.368
1.33
1.635
1.375
0.130
0.391